Welcome to the Louisiana State Board of Embalmers & Funeral Directors
MISSION: The Louisiana State Board of Embalmers and Funeral Directors was formed in 1914 under legal citation R.S. 37:831 for the purpose of regulating funeral establishments, crematory authorities, embalmer and funeral directors, funeral directors and retort operators who are engaged in the care and disposition of the deceased in order to protect the public, safety, and welfare. Mission Note
Shopping for Funeral Services Paying Final Respects
FTC Consumer Information Consumer FAQs
Follow the links above the banner (landscape photo) for information regarding licensing requirements for funeral establishments, crematories and individuals engaged in the care and disposition of the deceased. Additional information can be found below.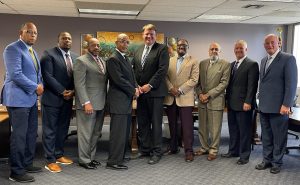 Board Members; from left to right, Juan Joseph, Willie Davis, Rev. Shelton Dixon, Rev. Rodney McFarland, Gregory McKneely, Maurice Southall, Louis Charbonnet, Stephen Boudreaux, and Terry Luneau.
Boards and Commissions information and LA R.S. 37:832, LA R.S. 37:839 and LA R.S. 37:840
---
Notices and Information tab above – scroll to Notifications and Recent Updates
---
Email:
---
ADA -Americans with Disabilities ACT – Information / Forms
---
**INSPECTION INFORMATION**
---
Log in or create your account via Certemy link above. Click forgot password for new log in credentials; create account, update info, upload documents and renew. Certemy help; support@certemy.com or 866.907.4088
---
---
Archived agendas and minutes can be found under Notices and Information, see tab above the banner

.
Upcoming meetings:
Please check the calendar to the right of the page for upcoming events.
Zoom is utilized for continuing education only for licensees that may be unable or choose not to attend meetings in person.
---
Board Meeting: April 4, 2023
Time: Apr 4, 2023 09:00 AM Central Time (US and Canada)
Join Zoom Meeting
https://us06web.zoom.us/j/89827081206?pwd=SWhISXNOS0xjUnZ3U0ZseHlVMFJVZz09
Meeting ID: 898 2708 1206
Passcode: 041@ED*6
+1 346 248 7799 US (Houston)
Meeting ID: 898 2708 1206
Passcode: 86209470
Find your local number: https://us06web.zoom.us/u/kppM27rqz
---
Laws & Rules Committee Meeting: April 5, 2023
Topic: Laws & Rules Committee Meeting
Time: Apr 5, 2023 10:00 AM Central Time (US and Canada)
Join Zoom Meeting
https://us06web.zoom.us/j/89331305054?pwd=TlpHTUVQN0c2czJRSDJrUkplUUtyUT09
Meeting ID: 893 3130 5054
Passcode: XDh^N2ue
+1 346 248 7799 US (Houston)
Meeting ID: 893 3130 5054
Passcode: 31410152
Find your local number: https://us06web.zoom.us/u/kds2TrliI2
---
Public records request – please submit a written request by USPS mail/Fax and/or email to kmichel@lsbefd.state.la.us