Welcome to the Louisiana State Board of Embalmers & Funeral Directors
Board Meeting notice and information below
MISSION:  The Louisiana State Board of Embalmers and Funeral Directors was formed in 1914 under legal citation R.S. 37:831 for the purpose of regulating funeral establishments, crematory authorities, embalmer and funeral directors, funeral directors and retort operators who are engaged in the care and disposition of the deceased in order to protect the public, safety, and welfare.  Mission Note
CONSMER ALERT Notice: FTC – Imposters prey on families preparing for the funeral of a loved one.
Veterans and families: Burial benefits and funeral planning | Consumer Advice (ftc.gov) https://consumer.ftc.gov/consumer-alerts/2023/11/veterans-and-families-burial-benefits-and-funeral-planning
Shopping for Funeral Services             Paying Final Respects
FTC Consumer Information       Consumer Information
  Complaint Form and Instructions
---
License statistics for Louisiana – Funeral establishments  = 418   Crematory authority = 43                Embalmer and funeral director = 819    Funeral director = 467    Retort operator = 261
---
---
Follow the links above the banner (landscape photo) for information regarding licensing requirements for funeral establishments, crematories and individuals engaged in the care and disposition of the deceased.  Additional information can be found below.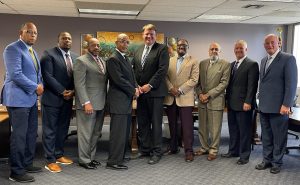 Board Members; from left to right, Juan Joseph, Willie Davis, Rev. Shelton Dixon, Rev. Rodney McFarland, Gregory McKneely, Maurice Southall, Louis Charbonnet, Stephen Boudreaux, and Terry Luneau.  
Boards and Commissions information and LA R.S. 37:832, LA R.S. 37:839 and LA R.S. 37:840
---
 Notices and Information tab above – scroll to Notifications and Recent Updates for more information and FAQs
---
Email: 
---
ADA -Americans with Disabilities ACT – Information / Forms
---
---
Log in or create your account via Certemy link above. Click forgot password for new log in credentials; create account, update info, upload documents and renew.  Certemy help; support@certemy.com or 866.907.4088
---
Archived agendas and minutes can be found under Notices and Information, see tab above the banner

.
Upcoming meetings:
Please check the calendar to the right of the page for upcoming events.  
Meetings are open to the public for personal attendance and virtual. Please use links below for virtual attendance. Agendas will be posted and available prior to the meetings.
Public Comments will be recognized by submitting the request in writing to the office by email and/or fax.  Public Comments are limited to 3 minutes.
---
Board Meeting:   – Join via link below;  meeting will start with the first link below.  When Executive Session is called, the meeting will end; please rejoin with the second link for the conclusion of meeting. FIRST LINK: 
SECOND Link –  Re-join meeting via link:  
LSBEFD Laws & Rules Committee meeting: Notice  Laws and Rules  10:00 AM Join via link;  
---
Public records request – please submit a request, in writing, by USPS mail, Fax or email to kmichel@lsbefd.state.la.us
Public Records Request Information – Law excerpt and Fees for copies