Welcome to the Louisiana State Board of Embalmers & Funeral Directors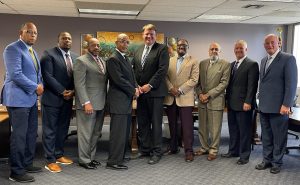 Board Members; from left to right, Juan Joseph, Willie Davis, Rev. Shelton Dixon, Rev. Rodney McFarland, Gregory McKneely, Maurice Southall, Louis Charbonnet, Stephen Boudreaux, and Terry Luneau.  Additional information regarding the members, go to "About Us" then "Members".
---
The Board was formed in 1914 under legal citation R.S. 37:832 for the purpose of regulating embalmers, funeral homes, funeral directors, individuals engaged in the care and disposition of the deceased and handling consumer complaints.
Follow the links above the banner (landscape photo) for information regarding licensing requirements for funeral homes, crematories and individuals engaged in the care and disposition of the deceased.  Additional information can be found below.
---
---
---
Log in or create your account via Certemy link above. Click forgot password for new log in credentials; create account, update info, upload documents and renew. Certemy help; 866.907.4088
---
---
---
Agendas and minutes can be found under Notices and Information, see tab above the banner

.
Upcoming meetings:
Please check the calendar to the right of the page for upcoming events.  The meeting Zoom link and agenda link will be posted soon.
---
PLEASE NOTE: Information requests such as public records, reinstatement, letters of verification of license for any purpose, etc., MUST be submitted in writing.  Written requests will need ample time to be researched for information to be provided.  Without a written request, information will not be distributed.
---
Consumer / Licensee Mission Statement
Complaint Form and Instructions
---
---
For the NBE testing information, please contact the International Conference of Funeral Service Examining Board (ICFSEB) at www.theconferenceonline.org or 479.442.7076. For accredited mortuary schools/programs, please visit the American Board of Funeral Service Education at www.abfse.org.
---
Consumers: Your Rights When Buying Funeral Goods & Services – FTC Information
Consumers: Shopping For Funeral Services – FTC Information
Public records request – please contact the office for information – 504.838.5109 or email at  hpenouilh@lsbefd.state.la.us